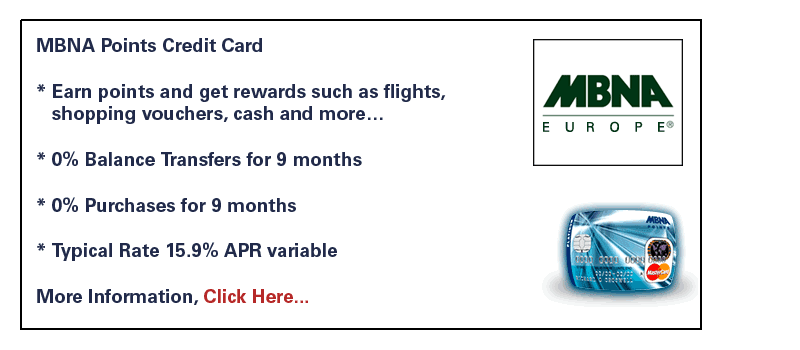 MBNA Points Card
The Maryland Bank National Association (or MBNA) is known as the largest independent credit card issuer in the US. Bought by the Bank of America in 2005, it continued its operations, concentrating in its main product: affinitive marketing. Within the many types of cards that are issued by MBNA in the UK, the Points card excels itself by a series of benefits.
The first one is that it is a platinum card, which entails a large credit line for all of your monthly expenses (with a top line of £50,000). The second one is that you don't need to pay any kind of annual fee.
And, let's not forget about the reason behind the name of the card: points. For every pound that you spend with your MBNA Platinum Rewards Credit Card, you will obtain one point. These points can be used for shopping for any kind of products or services imaginable.
But the good stuff doesn't stop there. Since the date the account is opened, the cardholder doesn't have to pay interests for all of the purchases he makes in the first three months. And, for the first twelve months, there are no rates in balance transfers.
What is best, the status of the credit card can be checked online through MBNA's web portal. And, if the card owner isn't near a computer, he may call the free, 24 hours per day, worldwide helpline, where a representative will help him with any question or problem.